Cast Iron Blue XILIN Teapot
Bredemeijer
Gourmet Kitchenworks, your source for fine European brands.
GEFU is a German company which makes the highest quality kitchen tools and gadgets. Bredemeijer is a 102-year old company from Holland which makes excellent teapots and tea kettles and other tea and coffee items. Olipac is an Italian company that specializes in stainless steel olive oil cruets. SILIKOMART is an Italian company that makes high-grade silicone molds in Italy. SteamWaverz are designed and made in the Netherlands and are a fun whimiscal addition to your tea experience. 
Blog
---
Fourth Family Lunch For the past four years, we have made it a tradition to go to my parents' house for the 4th of July. I absolutely love the 4th...
4th of July Breakfast In 2022 we were sitting in my parents' front yard watching all of the neighbors' fireworks and we decided we should contribute somehow since we didn't...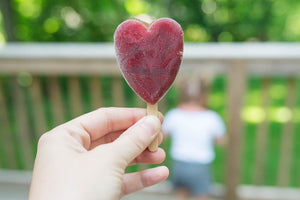 Popsicles & Kale I went to the store to get popsicles for Nellie, my two year old, and had a difficult time choosing which ones were best. Should I get...